Media release - The Coronation and the Australian Connection through St John Ambulance Australia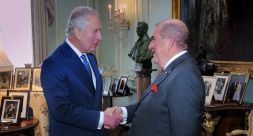 Many members, volunteers and staff of St John Ambulance Australia will be watching on Saturday 6 May, as His Majesty King Charles III is crowned during the Coronation. In attendance will be The Lord Prior of the Order of St John, Professor Mark Compton AM GCStJ - an Australian and a St John Volunteer of 49 years - amongst the invited congregation of more than 2,200 people and he will participate in the Orders of Chivalry procession as part of the Coronation Service.
This historic event is of great interest on the world stage, but also holds significance to the Australian Priory of the Order of St John. St John is a Crown order of chivalry working to deliver first aid and medical responses to community healthcare needs. This is most recognisable in Australia through the work of St John Ambulance.