Vale Her Majesty Queen Elizabeth II Sovereign Head of the Most Venerable Order of the Hospital of St John of Jerusalem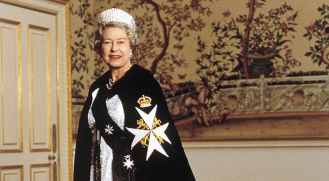 Dear St John Members,
I am sure that you have by now all heard the sad news of the death of the Sovereign Head of the Order of St John, Her Majesty Queen Elizabeth II. The Queen has been a steady and constant backdrop to our lives for so long and it is difficult to adjust to the reality that she is now gone. Very few of us remember a time when Her Majesty was not our monarch. Many of us enjoy memories of catching a glimpse of her on one of her Royal tours or on one of her very many public outings. Those who met her personally, without exception, found her to be genuinely interested and engaged with their work. As a royal order of chivalry, we have benefited from Her Majesty's commitment and support for our work. As I write this, I am in London and there is an outpouring of emotion – not so much grief as admiration and gratitude for a lifetime of dedication and service, and a very deep affection. People have taken to the streets this evening out of a need to be with others and share their feelings. It is a wonderfully warm and loving mood, tinged with melancholy.
I will write to the Lord Prior tomorrow and ask him to convey our condolences to the entire Royal Family, but in particular The King and our Grand Prior. I will also ask him to assure King Charles III of our loyalty and commitment as the Sovereign Head of the Order.
All St John offices will lower their flags to half-mast until after the funeral. Pages of condolence will be available for signature and comment at each of the worldwide St John Establishments until the end of the official 12 day mourning period. They will then be bound and placed in the Order Museum in London. Details of how to participate will be circulated when the condolence pages are available.
It is a good time to come together and share our feelings and provide support to our friends and colleagues.
Cameron Oxley KStJ
Chancellor